You are on the street and lost everything. You just have some cents in your pocket. But, you decide to show them all and become the richest man on earth!
It's hard to climb out of the gutter. But when you succeed, the sweet life of success, hard work and your own space station is waiting for you!
Description
Edit
Hobo Simulator is a Simulation Game with a more realistic approach. The Game is separated into three different parts, where you need to fulfill different goals.
In the first part, your main goal is to survive and this is not an easy one. You have three different status values: health, happiness and hunger. Does your health go to 0% or below, you will die and your actual game is over. Does your happiness reach 0%, you will permanently damage your health. Also, when you hunger reaches 100%, you will permanently damage your health. So, you should keep all the three values in the green zone.
The second part is to beat the game. To do so, you need to buy your own space station. But they are expensive, so you need to earn some money first. Hobo Simulator gives you a lot of possibilities to do this.
Once you have beaten the game, the leader board will change. Now, it isn't important how long you have survived, instead it's counted how fast you were to beat the game. Every action in the game will cost you some time. Different actions will cost different amounts of time. So, take care of what you do and what will take which amount of time to become rich as fast as possible.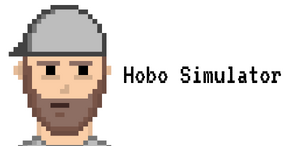 General Information
Name
Hobo Simulator
Category
Simulation
Price
Free (Offers in-app purchases)
Developer
DevStuff Direct
App Download
Version
2.0.2
Updated
March 3, 2016
OS Version
4.0.3 +
Community content is available under
CC-BY-SA
unless otherwise noted.